Dear Planned Parenthood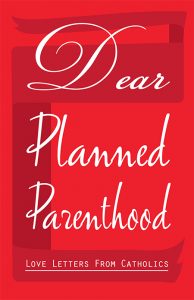 We all have those times in our lives when we need a friend. For many people, Planned Parenthood has been a safe place where the most vulnerable and marginalized women can get necessary reproductive healthcare without judgment or condemnation.
It's an organization that epitomizes social good. As Catholics, we have an obligation to stand up for the conscience rights of all individuals when it comes to personal, private decisions such as abortion, family planning and reproductive healthcare.
That care has been under attack for years, and on August 19th, refusing to knuckle-under to the Trump administration's new domestic gag rule, Planned Parenthood opted out of the Title X program, putting the healthcare of their 4 million clients at risk.
Dear Planned Parenthood: Love Letters from Catholics features heartfelt messages thanking Planned Parenthood staff for the care they provide to women across the country. Read the letters.