Message from the President
Religious Freedom in the Crosshairs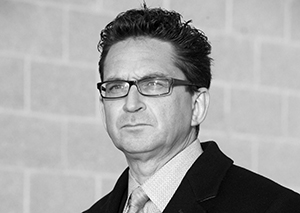 Jon O'Brien, President, Catholics for Choice
This picture is copyrighted and cannot be reproduced without the express permission of Catholics for Choice.
Covering everything from immigration policy to trade negotiations and free speech, the first weeks of President Trump's administration have demonstrated a willingness on the president's part to act both swiftly and unilaterally with regard to issues at the core of American life. The scope and force of the opinions and, more importantly, orders delivered by the newly inaugurated commander-in-chief have been staggering. Buried amongst the virtual avalanche of media coverage regarding executive orders, judicial pushback, contentious press conferences, and near-constant public demonstrations, some legislative considerations on the part of the executive branch have been lost in the ensuing clamor. Of these obscured issues, one is specifically notable for its alarming potential to fundamentally alter a doctrine that has been central to governance since the foundation of the American Republic: the separation of Church and State.
In the president's second week of office, media outlets obtained a leaked draft of an order drawn up by the executive branch that, despite the alarming implications of the document, quickly faded from public view as various battles raged both within and outside of the White House. As written, the potential executive order would greatly increase the likelihood of state-sanctioned and sponsored discrimination against certain classes of individuals on the basis of what has been inaccurately labeled "religious freedom." Alternative views of religious freedom aside, the reality of the proposed executive order is that it would curtail the exercise of both individual conscience and autonomy for believers and non-believers of numerous faiths through the legal enactment of an exceptionally narrow moral viewpoint which would dictate that:
marriage is or should be recognized as the union of one man and one woman;
sexual relations are properly reserved for such a marriage;
male and female are determined by anatomy at or before birth;
human life begins at conception; and
human life merits protection at all stages of life.
Placed into law, the language of this draft would codify specific moral standards. Such an order would prohibit both individual and collective freedoms of conscience and—if ever taken to the conclusion of its own internal logic by this or any future administration—could potentially invalidate the Establishment clause of the U.S. Constitution.
As Catholics of conscience, this should alarm us for a number of reasons, not the least of which is that, to take an oft quoted line from horror films, the call appears to be coming "from inside the house." Much of what the drafted order is crafted to enshrine in law is virtually identical to the long held machinations and maneuverings of the United States Conference of Catholic Bishops (USCCB). While many reading this are likely aware of both the USCCB's inner workings and the Bishops' legislative goals, some are not—and in the case of the latter a reiteration can only serve as a case to highlight the seriousness of this order if enacted.
Catholic healthcare and nonprofit organizations that serve the public are multi-million dollar businesses. They have large investments with federal contracts that should bring some expectation of playing by larger society's rules. But in 2011, the USCCB created the Ad Hoc Committee for Religious Liberty for the express purpose of redefining what religious liberty means in this country. The goal? Rewriting policy so they could have their federal dollars and discriminate, too.
In the USCCB's cloistered and distorted view of the world, victims of sex trafficking would not receive unbiased counseling and would have to endure a forced pregnancy. Lesbian, gay and transgender people would be refused jobs and services; committed couples would be denied the rights and benefits of marriage. Men and women wouldn't be able to get their prescriptions filled if their employer or pharmacist judged the use or provenance of the medicine immoral. People at risk of contracting or spreading HIV wouldn't learn that condoms can help save their lives and the lives of people they love, and women who need abortions, even to save their lives, would be turned away.
Enshrined in our Constitution is the separation of church and state. We can't have freedom of religion without guaranteeing freedom from religion. It must be a two-sided coin. If we have one without the other, someone's religious belief will dominate all others. Year in and year out, the USCCB have proven—beating the drum for the freedom to discriminate against others through events such as the opportunistic muddle of faux-patriotism that is their Fortnight for Freedom celebration—that their aims are anathema to what true religious freedom means.
Nevertheless, the USCCB's disingenuous agenda has been pushed by the extremes of the Republican party—and from other big business religious groups, such as Rick Warren and his Saddleback Church, the Southern Baptist Convention, and those who believe in state-sponsored discrimination, such as World Vision.
With regard to everyday Catholics and Americans, however, time and again the USCCB have proven to be out of touch—and Americans have vocally, personally made this known to the Bishops.
Americans have repeatedly stated: it's not OK to take taxpayer money to diagnose someone with HIV and not give that person—through condoms, medication and counseling—the ability to live and love as HIV positive. It's not OK for Latin American refugees, or those who are victims of sex trafficking or sexual abuse, to be denied emergency contraception—especially when they are not even referred to another provider who can give survivors what they need. It's not OK for employers to use religious beliefs to discriminate based on marital-status, sexual preference, or to refuse contraceptive coverage and IVF treatments.
As for Catholics, we've heard what the Bishops have said, and yet we know what we want and who we are. We know that: 99 percent of sexually active Catholic women in the US have used birth control. We know that: Catholic women seek abortions at the same rate as women from any other group. We know that: seven in 10 Catholic voters reject the idea that businesses, universities and other institutions should be allowed to deny services or employment based on religious objections.
We know that the bishops have failed—failed to convince Catholics to peddle, bully, and enforce their ultraconservative interpretations of the teachings on sex, sexuality and reproductive health.
And above all else: we know that our faith both calls us to follow our conscience and demands that we serve those who are the least among us. Controlling which services they will be able access—whether that is condoms and contraception or abortion—goes against both those traditions.
Should this executive order be placed into law, the legislative environment it creates will restrict both the enactment of our conscience and the expression of our compassion. Enacted, this draft creates an environment where it is possible—suddenly or slowly, in the current or future administrations—that matters of religious conscience may no longer be decided by the individual. It opens a space to make possible that which is anathema to what it means to us as both Americans and Catholics.
As both Americans and Catholics, are we willing to stand by idly while there is the even the slightest potential, let alone the inescapable reality, that we are allowing for a country that legally allows for:
single parents being denied support from a social service agency prejudiced against pre-marital sex;
foster children awaiting adoption because they cannot be placed with an LGBT family;
workers being fired for using IVF to start a family;
the denial of shelter to pregnant homeless youth;
refusal of rental agreements to unmarried and/or same-sex couples accused of "living in sin";
stoppage of employee coverage for critical health services because of religious objection to contraception;
loss and denial of employment to LGBT individuals by organizations that espouse religious beliefs against homosexuality;
prohibition of issuing marriage licenses to couple by government employees on the basis of personal religious beliefs; and
compulsion of parishioners to vote as they are directed to from the pulpit.
The answer is unequivocally—No.
This is not a partisan issue, it is an American ideal. The separation of church and state is a cherished value and keystone of our democracy. It's what makes it possible for all of us—Democrat, Republican, people of faith, or atheists—to be equal citizens with the right to follow our conscience.
As a Catholic, social justice demands that I speak up before real religious freedom is destroyed in our country.
Jon O'Brien is the president of Catholics for Choice.
---
Read the April 2016 message from Jon O'Brien: Religious Liberty and the Big Business of Catholic Nonprofits
Read the November 2016 message from Jon O'Brien: Pope Francis' Announcement on Abortion Is About Bridging the Deep Chasm Between the Church Hierarchy and the Reality of Everyday Catholics
Read the March 2016 message from Jon O'Brien: Pope and Patriarch: An Unholy Alliance against Women
Read the July 2014 message from Jon O'Brien: How Hobby Lobby Killed Religious Liberty
Read the March 2014 message from Jon O'Brien: Pope Francis At Year One: More Pastoral, Less Political
Read the November 2013 message from Jon O'Brien: Lessons from the Fight over Later Abortion in Albuquerque
Read the August 2013 message from Jon O'Brien: The Bishops' Failed Fortnight for Freedom
Read the December 2012 messge from Jon O'Brien: The Secret History of Sex, Choice and Catholics
Read the October 2012 message from Jon O'Brien: Nobody Gets to Say Who Is and Who Is Not Catholic
Read the July 2012 message from Jon O'Brien: Let's Celebrate Real Religious Freedom
Read the February 2012 message from Jon O'Brien: Pope's Comments on Infertility Shockingly Insensitive and Out of Touch with the Catholic Community
Read the September 2011 message from Jon O'Brien: Everybody Needs to Tell HHS that Religious Discrimination Is Not Acceptable
Read the April 2011 message from Jon O'Brien: Not Letting the Facts Get in the Way
Read the December 2010 message from Jon O'Brien: Standing with Women Who Need a Later Abortion
Read the June 2010 message from Jon O'Brien: The Bishops' Fig Leaf
Read the November 2009 message from Jon O'Brien: Truth Is Indeed One of the First Casualties of War
Read the April 2009 message from Jon O'Brien: Much Ado About Nothing
Read the October 2008 message from Jon O'Brien: A Time to Choose
Read the September 2008 message from Jon O'Brien: Catholics for Choice Opposes Flawed "Provider Conscience Regulation" Proposed by the Department of Health and Human Services
Read the June 2008 message from Jon O'Brien: Women's Rights, Scientific Data and Compassion Win the Day in UK House of Commons Debate
Read the April 2008 message from Jon O'Brien: "In Hope We Are Saved"
Read the December 2007 message from Jon O'Brien: Catholicism, Catholics for Choice and Science
Read the August 2007 message from Jon O'Brien: When Theocracy Trumps Democracy
Read the May 2007 message from Jon O'Brien: You Don't Need a Weatherman to Know Which Way the Wind Blows