Catholics for Choice Respects ABQ Women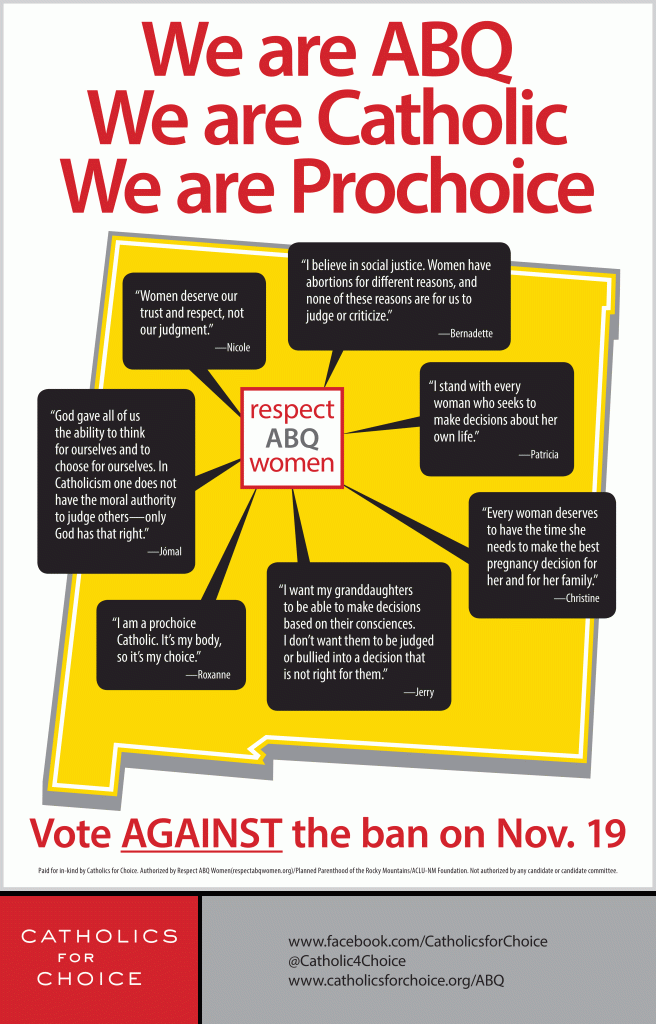 As Albuquerque citizens voted on a ballot measure that would ban later abortion in the city, Catholics for Choice has been on the ground helping local Catholics make their voices heard.
Catholics in Albuquerque have lifted their voices in opposition to the ballot measure in radio and print ads. Citing their commitment to social justice, freedom of conscience and religious liberty for all, they called on their neighbors to join them in voting against the measure.
Everyday Catholics in ABQ have been showing their support for ABQ women by sharing their stories through the Catholics for Choice action center.
See photos of our prochoice ABQ Catholics in action.
Read a message from the president.
---
Media
Radio ads [click the links below to listen]
20 November 2013 – Albuquerque voters reject late-term abortion ban
19 November 2013 – Historic abortion vote in New Mexico
18 November 2013 – Albuquerque vote targets late-term abortion clinic
16 November 2013 – Abortion Ban Initiative Vote On Tuesday
12 November 2013 – Religious Groups Are Fighting To Defeat Albuquerque's Proposed 20-Week Abortion Ban
10 November 2013 – Albuquerque Journal – Don't make an idol of ideology
---
Resources
Faith Leaders Support ABQ Women
Catholics for Choice and other faith-based organizations trust women to make healthcare decisions that are best for themselves and their families.
Pope affirms faith in social justice
Rep. Patricia Roybal Caballero, an Albuquerque Catholic and state legislator, explains how her faith informs her prochoice stance.
Dolores Huerta: Proposed abortion ban an assault on women's rights
The noted Catholic civil rights and labor activist has rallied against the ballot measure, calling it "an attack on women's health…and civil liberties."
A Statement on Later Abortion
The proposed restriction in Albuquerque would limit access to abortion after 20 weeks. Read why women's health, rights and justice organizations support access to later abortion.
Why I Am Prochoice
An Albuquerque doctor explains how he came to identify as prochoice and what drew him to becoming an abortion provider.
A Perspective on Later Abortion…From Someone Who Does Them
Proponents of the ballot measure threatening later abortion access in Albuquerque would do well to listen to the ethical reasoning from Willie Parker, an OB/GYN who shares why his faith compels him to provide later abortion care.
Fetal Pain?
The language of this ballot measure claims that a fetus can feel pain at 20 weeks. Stuart W. G. Derbyshire, PhD, refutes this notion in a 2010 article from Conscience magazine.
London Declaration of Prochoice Principles
The Albuquerque ballot measure puts obstacles in the way of women's right to access abortions and willing providers' ability to perform them. Drafted by leaders of the prochoice movement, the London Declaration recognizes that "women are competent to make decisions and act on them responsibly" and that "we recognize the moral value" of providers' commitment to care.
Catholic Theologians Present the Case for Abortion as a Moral Choice
In a short documentary, "The Secret History of Sex, Choice and Catholics," theologians explain why abortion can be a moral choice.