The Coalition for Liberty & Justice 2016 Forum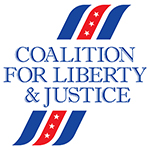 On September 16, 2016 in Washington, DC, the Coalition for Liberty & Justice held their second forum on religious liberty.
The day-long conference featured an intersectional group of speakers on women's rights, LGBT rights, journalism, medicine, and religion. Panel topics included the media's responsibility in reporting about religious liberty, how religious doctrine affects the provision of medical services and how recent accommodations allow religious institutions to discriminate.
---
First Freedoms: The Media's Portrayal of Religious Liberty and Why Framing Matters
Welcome and Introduction by Sara Hutchinson Ratcliffe, Catholics for Choice
Moderator: Frederick Clarkson, Political Research Associates
Panelists:
Patricia Miller, Religion Dispatches
Adele Stan, Alternet and The American Prospect
---
Bogus Arguments and Bad Medicine: Bishops in the Exam Room
Moderator: Sonja Spoo, Catholics for Choice
Panelists:
Susan Berke Fogel, National Health Law Program
Aram Schvey, Center for Reproductive Rights
Wayne Shields, Associated of Reproductive Health Professionals
---
Whose Religious Liberty is it Anyway?
Moderator: Glenn Northern, Catholics for Choice
Panelists:
Ann Marie Benitez, National Latina Institute for Reproductive Health
Larry Decker, Secular Coalition for America
Marianne Duddy-Burke, DignityUSA
Closing remarks by Glenn Northern, Catholics for Choice