Abortion Access and Public Funding
Conscience magazine offers in-depth, cutting-edge coverage of vital contemporary issues, including reproductive rights, sexuality and gender, feminism, the religious right, church and state issues and US politics.
Our readership includes national and international opinion leaders and policymakers, members of the press and leaders in the fields of theology, ethics and women's studies.
---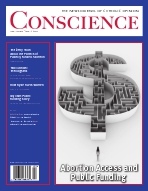 Current Issue: Abortion Access and Public Funding
Vol. XXXIV — No. 2
Features:
The Dirty Truth about the Politics of Publicly Funded Abortion
Jon O'Brien
Two Catholic Theologians 
Sheila Briggs and Rosemary Radford Ruether
How Hyde Hurts Women
Marisa Spalding
My Own Public Funding Story
Sara Hutchinson Ratcliffe
Departments:
Reviews
Bookshelf
A list of new and noteworthy books
Postscript
In their own words: Supporters and Critics of the church speak
Back Cover
Index: What do Catholic Millennials really believe?