Dutch Minister of Foreign Trade and Development Cooperation Ploumen visits Catholics for Choice to discuss #SheDecides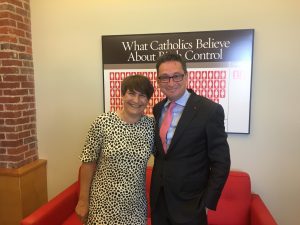 Catholics for Choice President Jon O'Brien met with Dutch Minister of Foreign Trade and Development Cooperation, women's rights advocate, and fellow Catholic Lilianne Ploumen today at the Catholics for Choice office. During the meeting, opportunities for further cooperation regarding access to safe abortion, contraceptives, and other women's health priorities were discussed, as well as Minister Ploumen's initiative "She Decides." The Minister also convened with the Catholics for Choice staff, who thanked her for standing with the majority of Catholics who are prochoice and for her commitment to promoting women's moral agency.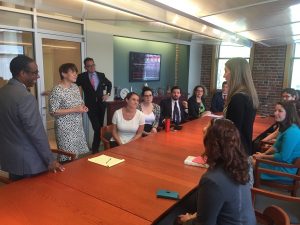 "She Decides" is an initiative Minister Ploumen helped launch in January 2017 in response to President Trump's reinstatement and expansion of the "global gag rule," which denies US foreign assistance to organizations in developing countries if they discuss abortion. To date, it has raised over €182 million dollars toward providing contraceptives and safe abortion access in countries affected by the gag rule.
For more information, read our statement about the "She Decides" initiative.