Prochoice Catholic Peruvians Applaud New Abortion Guidelines
1 July 2014 – After 90 years delay, the Peruvian government has adopted a protocol for the provision of therapeutic abortion. Prochoice Catholic Peruvians embrace the new guidelines and affirm our church's teaching on the primacy of conscience.
Press release from CDD Peru
Ver la versión en español.
PROTOCOL FOR THERAPEUTIC ABORTION
Women will receive medical services promptly; health professionals may provide services without pressure or fear of religious authorities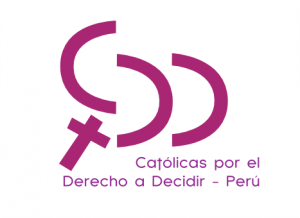 Católicas por el Derecho a Decidir–Perú welcomes the Ministry of Health's recent adoption of national technical guidelines for the provision of therapeutic abortion care in public hospitals, in keeping with the ministry's obligations to the public and within the framework of a secular state.
Therapeutic abortion has been legal since 1924, and Peruvian women have waited 90 years for health regulations to guarantee women access to quality abortion care when a pregnancy puts their life or health at risk.
As Catholics, we recognize the Catholic hierarchy's repressive and punitive stance on abortion, but with the knowledge that church teachings on the subject have not remained static throughout history. We value the diverse opinions about abortion existing within the church today. As the Second Vatican Council, an official document [sic] of the Catholic church, states, "Human dignity requires each person to act according to their conscience and free will … and not under the pressure of a blind internal impulse or mere external pressure." Women follow their consciences to make crucial decisions about their lives, like the decision whether or not to terminate a pregnancy. Catholic teaching recognizes the primacy of women's conscience before any other opinion or mandate from the hierarchy.
As Catholics, we deeply regret the words and actions of Cardinal Juan Luis Cipriani [archbishop of Lima] who has opposed progress in achieving and guaranteeing women's rights. The archbishop has blamed, sanctioned and coerced the population and manipulated and distorted the Gospel for political purposes. His actions reveal the  presence of and power wielded by the religious lobby in Peru's political process, including agreements made with presidential candidates to halt any progress towards protecting the health and lives of women. Cardinal Cipriani's angry attacks leave no doubt as to the political role played by the hierarchy, utilizing the veil of the divine.
As a country, we need leaders, legislators and public officials with moral, institutional and political autonomy who are free from the control of any religious power and dedicated to guaranteeing human rights without discrimination in any form.
Churches to live our faith, states to guarantee our rights
~Lima, June 28, 2014
---
PROTOCOLO DE ABORTO TERAPÉUTICO:
Las mujeres serán atendidas oportunamente, los profesionales de salud podrán atender sin presiones ni temores de orden religioso
Católicas por el Derecho a Decidir – Perú saluda la reciente aprobación de la Guía técnica nacional para la atención del aborto terapéutico en los servicios públicos realizada por el Ministerio de Salud como parte de su obligación con la salud pública y en el marco de un estado laico.
El aborto terapéutico es legal en el país desde 1924 y las mujeres peruanas hemos esperado 90 años por una reglamentación sanitaria que estandarice los procedimientos a seguir para garantizar a las mujeres atención de calidad al requerir la interrupción de un embarazo cuando está en riesgo su salud  y su vida.
Como católicas reconocemos la existencia de una postura represora y condenatoria  dentro de la iglesia Católica respecto al aborto, pero también reconocemos que a lo largo de la historia no ha habido una postura única de la Iglesia y valoramos las diversas opiniones sobre tema dentro de la misma. Tal como señala el Concilio Vaticano II, documento oficial de la Iglesia Católica,  "la dignidad humana requiere que cada persona actúe según su conciencia y libre elección… y no bajo la presión de un ciego impulso interior o de la mera coacción externa". Las mujeres somos personas con capacidad para poder deliberar ante situaciones difíciles de nuestra vida y, en situaciones como las del aborto, se reconoce la primacía de la conciencia de las mujeres ante cualquier otra opinión o mandato que provenga de la jerarquía.
Como católicas, lamentamos profundamente el comportamiento y las expresiones del Cardenal Juan Luis Cipriani en contra del avance y garantía de derechos humanos para las mujeres, señalando culpa, sanción, coerción a la población y haciendo un uso político y distorsionado del evangelio. Develando también la presencia y presión del lobby religioso en la estructura política al mencionar acuerdos con candidatas/os presidenciales para detener avances a favor de la salud y la vida de las mujeres.  Su molestia y arremetida deja claro el rol político que juega la jerarquía utilizando el velo de lo divino.
Como país, requerimos contar con gobernantes, legisladores y funcionarias/os públicos con autonomía moral, institucional y política de cualquier poder religioso, que garanticen los derechos humanos sin ningún tipo de discriminación.
"Las iglesias para vivir nuestra fe, los estados para garantizar nuestros derechos"
Lima, 28 de Junio de 2014
[1]"Guía Técnica Nacional para la estandarización del procedimiento de la Atención Integral de la gestante en la Interrupción Voluntaria por Indicación Terapéutica del Embarazo menor de 22 semanas con consentimiento informado en el marco de lo dispuesto en el artículo 119º del Código Penal"