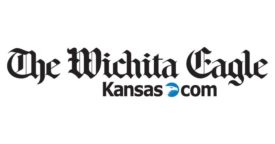 Kansas City Archbishop Joseph Naumann has been outspoken in his opposition to abortion.
In 2008, he asked Gov. Kathleen Sebelius not to receive communion because of her stance on abortion. He has written in the archdiocesan newspaper about Sen. Tim Kaine's support for keeping abortion legal and severed the archdiocese's relationship with the Girl Scouts over ties to Planned Parenthood.
Now, he's been chosen to play an even more important role in the Catholic Church's fight against abortion.
Naumann will likely focus "almost singly" on the issue of abortion in the position of chairman, said R. Andrew Chesnut, chair of Catholic Studies at Virginia Commonwealth University
Chicago Cardinal Blase Cupich, who lost the election to Naumann, is also outspoken in his opposition to abortion, but regards abortion as "part and parcel of this larger package of emphasis on policies that define life: the death penalty, access to health care, poverty," Chesnut said.
Naumann's election in November (with 54 percent of the vote) was also the first time in four decades that a cardinal was not chosen for the position.
"That in itself is significant," Chesnut said. "It tells you that the American bishops who voted on this were more interested in electing somebody who they felt represented their own views on the committee than necessarily being deferential to tradition of the last four decades of electing a cardinal."
Two traditions
Naumann told The Wichita Eagle that the characterization of a vote for him as a vote against Pope Francis was "saddening" and "mistaken."
Issues such as abortion, racism and immigration are all related and of great importance to the Catholic Church, he said. The question is how those issues ought to be prioritized.
"Pope John Paul talked about life being the fundamental issue," Naumann said. "Without life none of the other rights are relevant. … This is an issue where you can't legitimately be faithful to our Catholic faith and be for legalized abortion. That's why historically it's had a primacy in the church's view of all these social issues."
John Gehring, Catholic program director at the D.C. based Faith in Public Life, said a focus on abortion has the potential of limiting the Catholic Church's ability to work with Democratic leaders on other issues.
"You don't want to send a message that the church is aligned too closely with one political party when in fact Catholic teaching really challenges the agendas of both parties in different ways," said Gehring, who previously worked in communications for the U.S. Catholic bishops.
"What's at stake for the church isn't whether or not bishops will speak out against abortion, but what framework the church can use to understand and express its commitment to defending life without getting boxed in by a two-party political culture," Gehring wrote in an article for Commonweal magazine about the election.
John Grabowski, associate professor and director of moral theology and ethics at The Catholic University of America, said he didn't think there was much weight behind framing the election in political terms.
"What you have is a difference of maybe emphasis and strategy, certainly not a difference of substance or teaching," Grabowski said. "Both of those men want to defend life and to build a culture of life."
Naumann said his personal background has also given him a greater sensitivity to women facing a "crisis pregnancy": His father was murdered several months before Naumann was born.
That, coupled with Mother Teresa's "deep conviction" about the issue, has made it one that is particularly important to him, Naumann said.
He also remembers watching Geraldine Ferraro at the Democratic Convention in 1984, where he saw the first woman, a Catholic, to be named vice-president support abortion.
"After watching the Democratic convention that year, I felt if there was anything I could do to change what Pope John Paul called the culture of death, that I was committed to doing it," he said.
Naumann's election has excited anti-abortion activists, including those in Kansas.
Mary Kay Culp, executive director of Kansans for Life, has known Naumann since he was a priest in St. Louis, where he was pro-life coordinator.
"They picked the right man for the right job," Culp said. "He's just always cared deeply about the issue."
Everyday Catholics
More than 2,000 Kansans headed for Washington, D.C., this week to join the March for Life, the country's largest anti-abortion rally. Naumann was among them and is also expected to attend the Rally for Life on Monday in Topeka.
Although the march is open to people of any religion, its president and others have called Catholics the backbone of the march and the pro-life movement.
Yet everyday Catholics are divided on their church's teachings about abortion. The Catholic Church teaches that human life begins at conception and that abortion ends the life of a child.
A Pew Research Center report found in 2017 that 53 percent of Catholics said abortion should be legal in "all or most cases," while 44 percent said it should be illegal.
A 2016 report on religious liberty and nondiscrimination, also from Pew, found that 51 percent of Catholics consider having an abortion morally wrong, while 16 percent considered it morally acceptable. Another 31 percent said it wasn't a moral issue.
Those percents change among Catholics who attend religious services weekly or more: Among that population, 83 percent said having an abortion was morally wrong.
Sara Hutchinson Ratcliffe, vice president of Catholics for Choice, said the bishops' vote for Naumann shows they are not reflecting the interests of everyday Catholics. It also shows they aren't interested in following Pope Francis' "directive to broaden the scope of these issues," she said.
"They don't represent what Catholic voters want, they don't represent how Catholic voters feel about most issues," she said. "The change in tone that the Pope has been trying to do over the course of the last three years, the U.S. Conference of Catholic Bishops is really lagging behind that."
Naumann could have "significant impact" on the anti-abortion movement in his new role, Grabowski said.
"The bishops certainly set the agenda in terms of how does the church in the United States try to build a culture of life," he said.
Kansas at center stage
Naumann's election to the position comes as Kansas waits for its Supreme Court to rule on a law banning dilation and evacuation abortions. Also at issue is whether the state constitution includes the right to an abortion at all.
Culp, the director of Kansans for Life, said she's especially grateful to see Naumann taking on a national role as Kansans wait for a ruling.
"He's been very helpful as the archbishop in Kansas to the pro-life cause. Now he will be influential at a national level," she said. "People around the country know him because he's been involved at that level over the years."
Kansas is taking center stage in the anti-abortion movement in another way: The National Right to Life Convention was scheduled for June in Overland Park even before Naumann was chosen to chair the committee. Naumann is scheduled to speak at the convention's prayer breakfast.
Naumann has said it's too soon for him to lay out his priorities for the committee, since his term doesn't begin until November.
"Please know that I appreciate and depend on your prayers all the time," he wrote in The Leaven, the archdiocesan newspaper. "I will count on you to ramp up your prayers next November when I assume this additional responsibility to serve the U.S. bishops in their efforts to build a culture of life and a civilization of love."
The article was originally published in The Wichita Eagle.