Test Columns (should be removed)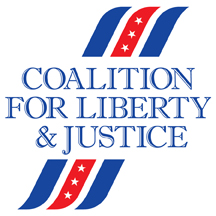 Mission
The Coalition for Liberty & Justice is a broad alliance of faith-based, secular and other organizations that works to ensure that public policy protects the religious liberty of individuals of all faiths and no faith and to oppose public policies that impose one religious viewpoint on all.
Co-Conveners
Catholics for Choice
National Council of Jewish Women
---
On February 7, 2014 in Washington, DC, the Coalition for Liberty & Justice convened a forum featuring legal and political experts, religious and community leaders, grassroots organizers and advocates for religious freedom and against discrimination.
Watch a recording of the forum.
---
Values
We support the separation of religion and state and believe that public policy should not impose or privilege any religious viewpoint.
We support religious liberty and the ability to exercise one's rights based on conscience, moral codes and beliefs.
We support public policies that both respect religious liberty and protect against the use of religious beliefs or traditions to discriminate or undermine equality.
We advance religious liberty and justice that respects individuals, supports the common good and reflects the foundational principles of our nation.
---
Resources
In "Towards a Truly 'Civil' Society," Sara Hutchinson of Catholics for Choice and Sammie Moshenberg of the National Council of Jewish Women explain why their organizations set up the Coalition for Liberty & Justice.
During a forum on August 21, 2013, "Defending Real Religious Liberty for All," experts from the Coalition for Liberty & Justice and allies from the international community met to discuss the current state of church/state separation in light of the US State Department's announcement of the creation of the Office of Faith-Based Community Initiatives, as well as the ongoing litigation over federal contraceptive coverage requirements. Listen to podcasts from this event here.