Catholics for Choice employs a diverse team of thought-leaders, experts and advocates who manage our programs and drive our efforts.
Press
Get more information or arrange an interview.
Press Center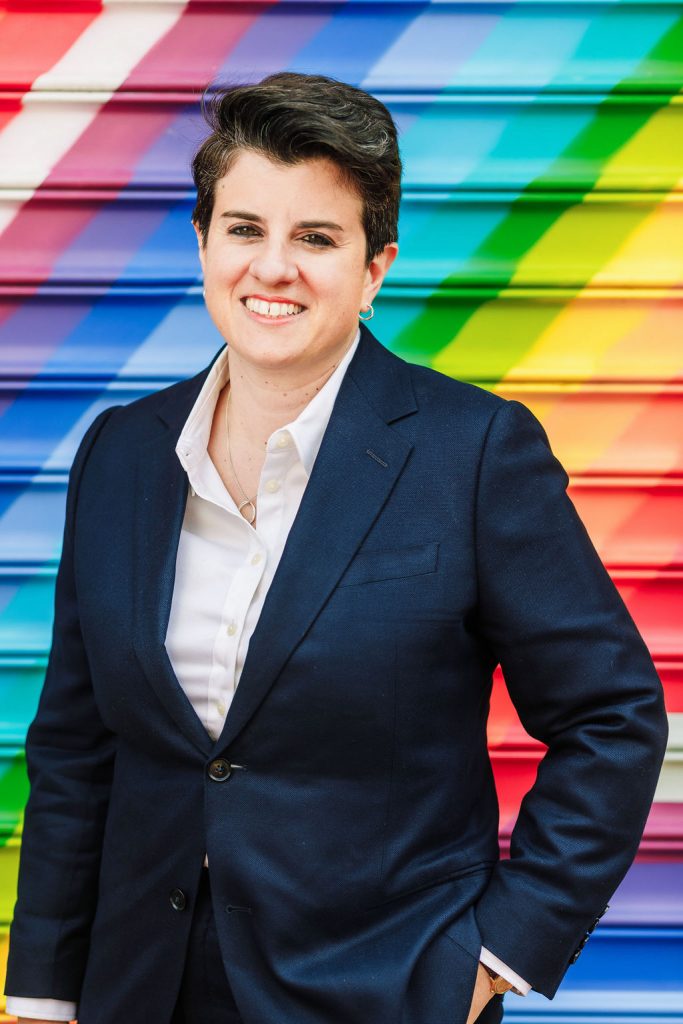 Jamie L. Manson she/her
President
@JamieLManson
For over a decade, Jamie Manson has been a thought leader and advocate in the field of women's equality and reproductive rights in the Catholic Church and the public square. For 12 years, she was a columnist at the National Catholic Reporter where she was one of the few openly LGBTQ journalists in the Catholic media in the world. She was an often-solitary voice for reproductive freedom and justice and was one of the first to sound the alarm about the right-wing push for religious freedom. Her columns led to interviews with the CBS News, MSNBC and NPR, and her commentary has been quoted in the New York Times. She has been published in the Washington Post, the L.A. Times, the Philadelphia Inquirer, the Daily Beast, Buzzfeed and Rewire News.
Jamie's expertise in Catholicism and sexual ethics was first formed during her Master of Divinity studies at Yale with her mentor, Margaret Farley. In 2002, she aided Farley in co-funding the All Africa Conference: Sister to Sister, which supports religious women who minister to those suffering from the HIV/AIDS pandemic. She edited and wrote the introduction to Changing the Questions: Explorations in Christian Ethics, a collection of writings by Margaret Farley (Orbis Books, 2015).
An internationally recognized, authoritative voice on gender equality, sexuality and reproductive health, Jamie has spent over a decade challenging the hierarchy's teachings on women's ordination, contraceptive access, abortion, religious liberty and LGBTQ issues. She has won over a dozen awards from the Catholic Press Association and is a three-time winner of the Religious News Writers Association's (RNA) award for the Commentary of the Year. She also won the Wilbur Award for Best Online Religion News Story for her Buzzfeed story "Feminism in Faith." In 2015, her activism on behalf of women earned her the Theresa Kane Award for Women of Vision and Courage.
---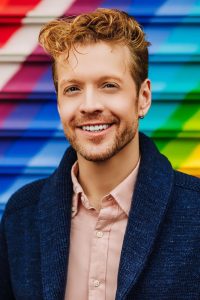 John Becker he/him
Press Secretary
@Freedom2Marry
John Becker is a longtime advocate and writer in LGBTQ and religious spaces, and his work spans a broad range of issues from the Catholic Church to conversion therapy to marriage equality. High-profile victories include two headline-grabbing reports about anti-LGBTQ bigotry in the Salvation Army, a successful international media campaign convincing Apple to drop a "gay cure" iPhone app and a sting operation in which he went undercover with hidden cameras at a clinic co-owned by Marcus and Michele Bachmann, which exposed them for offering fraudulent "ex-gay" conversion therapy. John has appeared on ABC's World News Tonight, Nightline, and Good Morning America; NBC's Today Show; CNN's Newsroom; Fox's Alan Colmes Show; MSNBC's Ed Schultz Show and Live with Al Sharpton, and the Associated Press Television Network. He and his work have been mentioned in The New York Times, the Washington Post, the Los Angeles Times, and others. Originally from Wisconsin, John now lives in Washington, D.C., where he serves as the Vice President of Political Affairs for GLAA and is a founding core team member of Gays Against Guns DC. In addition to his communications and advocacy work, John is an accomplished classical musician, holding the Master of Music degree in vocal performance.
---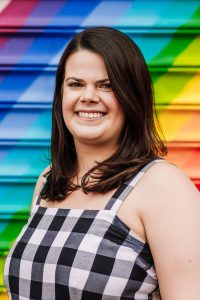 Marlee Breakstone
State Policy Associate
Marlee Breakstone promotes and strengthens pro-choice Catholic advocacy in the United States, focusing on outreach, recruitment and engagement of our activist network at Catholics for Choice. Emphasizing CFC's voice as the leading expert on progressive Catholicism and reproductive health, rights and justice, Marlee builds and sustains relationships with individuals and groups around the country—building community, connecting activists to local partners and efforts, distributing CFC resources and helping folx prepare to speak up as pro-choice Catholics. Marlee holds a bachelor's degree in Social Theory and Practice with a focus on Women's Health Policy from the University of Michigan, Ann Arbor (Go Blue!), and has experience in successfully organizing campaigns to elect progressive candidates in swing states. When she's not advocating for reproductive health, rights and justice, Marlee enjoys traveling, trying new recipes, practicing yoga, doing puzzles and being a tourist in her own city by exploring DC with her adorable dog, Ruthie.
---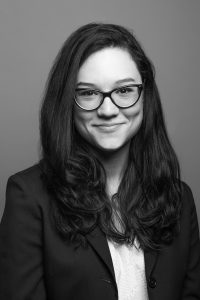 Rebecca Robinson Brown
Senior Associate for Development
Rebecca Robinson Brown manages the development efforts of Catholics for Choice, including the organization's individual giving and grants programs. She is passionate about reproductive health, rights and justice and connecting individuals with causes they care about. Prior to joining Catholics for Choice, Rebecca managed the individual giving program at the Secular Coalition for America, where she worked to uphold the separation of church and state and promote religious liberty for all. She began her career as a legal assistant to a family firm, which represented clients involved in the media, sports and entertainment industries. Rebecca holds a bachelor's degree in Cinema and Media studies from Carleton College in Northfield, MN. When she is not working, Rebecca enjoys practicing yoga, doing puzzles (both crossword and jigsaw), and watching most television shows.
---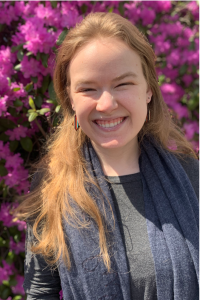 Kate Hoeting she/her
Writer and Managing Editor
Kate Hoeting serves as the managing editor of Conscience, writes CFC's long-form publications, and provides editorial expertise across multiple departments. Recently, she graduated with a Master in Theological Studies from Harvard University, where she focused on religion and reproductive health. She is an abortion doula and has served hundreds of people, many of whom were Catholic, in-clinic during the procedure. In 2016, she co-created the Carleton Advocacy Network of Doulas (CAN-DO), one of the country's first collegiate abortion doula coalitions. While completing a B.A. in religion at Carleton College, she was granted a Larson International Fellowship to walk 200 miles of el Camino de Santiago and interview nonreligious pilgrims about their reasons for walking a Catholic pilgrimage. Before coming to CFC, Kate served as the Editor-in-Chief of the Graduate Journal of Harvard Divinity School and as a research associate at the Pluralism Project. This year, Kate will present her work at the American Academy of Religion Annual Meeting; the International Society for Media, Religion and Culture Conference; and the American Catholic Historical Association Annual Meeting. In her spare time, Kate enjoys picking the banjo, calling her grandma, and hanging out with fellow Midwestern queers.
---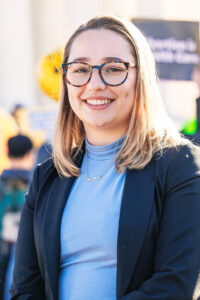 Lauren Morrissey she/they
Administrative Associate
@lmor16
After five years in CFC's pro-choice Catholic network, Lauren Morrissey joined CFC in 2021 to provide administrative and programmatic support for the Director of Operations, the President, and the Director of Special Projects. Lauren lives at the intersection of her Catholic faith, her commitment to reproductive justice, and her passion for young people everyday.
Lauren holds a B.A. in Political Science, and a B.A. in Religious Studies from Loyola University Chicago, where she focused her work on abortion jurisprudence, constitutional law, sexual ethics, queer theology, and feminist theology. Born and raised in San Francisco, Lauren is also the co-founder and co-director of the Student Coalition for Reproductive Justice (SCRJ), an organization that brings together ten student groups on Catholic colleges and universities across the nation that are organizing for and providing sexual and reproductive healthcare to students when their institutions refuse to provide this essential care. Lauren also serves on the Student Advisory Board for the American Society for Emergency Contraception, and helped create their EC for Every Campus (EC4EC) campaign, helping students build safer sex product hotlines and distribution programs on campus.
Lauren's work is featured in Rewire News Group, The Huffington Post, NBC News, RePROs Fight Back, and Femtastic Podcast. Lauren is a self-proclaimed disco queen, avid reader, and SCOTUS whisperer.
---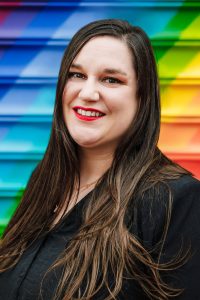 Tinsley Murphy she/her
Federal Policy Associate
Tinsley Murphy supports the Domestic Program Team managing administrative and program support for the work CFC does across the United States. Tinsley received a Bachelor's of Arts in Political Science from Purdue University. Her background includes work on both political and issue campaigns for environmental policy and reproductive justice. Outside of sticking it to the man, Tinsley finds serenity is gardening with her dog, Bitsy, during the spring and summer. During the winter, she loves to get her creative mind flowing by making delicious hot sauces and jellies from her fall harvest.
---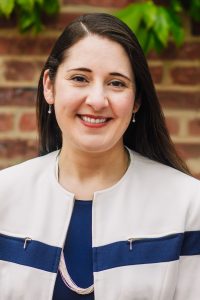 Elyce Nollette she/her
Director of Special Projects
Elyce Nollette leads cross-departmental projects and special programming to advance sexual and reproductive rights in the United States and worldwide. She guides other senior staff on program implementation and execution, providing recommendations and redirecting efforts as needed to ensure activities are designed to achieve long- and short-term goals that facilitate the continued strength of the organization both domestically and internationally. Prior to joining the executive team, she served as the Senior International Program Associate fostering relationships with policymakers, health providers, advocates, activists and collegial organizations in Africa, Europe and Latin America to educate, inform and influence international debates in the reproductive health and religious liberty spaces. These relationships formed a community of dedicated advocates that, like CFC, continue to collaborate to counter institutional barriers to achieving comprehensive reproductive healthcare in accordance with their consciences. Elyce holds a Bachelor of Arts in International Studies from Dickinson College, a Master of Public and International Affairs from University of Pittsburgh, and is a PMI certified Project Manager. When she is not advocating for sexual and reproductive rights and justice, she enjoys singing in the Washington International Chorus and volunteering as the DC Committee Chair of Water For People, where she raises awareness about the increasing global water crisis. Elyce indulges her need for creative release as a culinary alchemist, experimenting with dishes and bakes alike.
---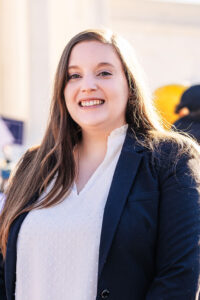 Shannon Russell she/her
Director of Policy
@ShannonRussell

Shannon Russell works collaboratively with CFC's domestic and international teams to provide strategic thought leadership and articulate policy change strategies that impact reproductive health, rights, and justice at the state, national, and international level. She fosters relationships and interacts regularly with elected officials, governmental representatives, and coalition partners to represent pro-choice Catholics who support reproductive freedom because of our faith, not in spite of it. Before joining CFC, Shannon led federal advocacy efforts to advance reproductive health, rights, and justice at the National Council of Jewish Women and worked with policy staff at the Center for Reproductive Rights, NARAL Pro-Choice America, and the Senate HELP Committee. She holds a law degree from George Mason University and undergraduate degrees in history and political science from Gettysburg College. In her free time, Shannon is a voracious reader, enjoys supporting D.C.'s museums and hockey team, and loves taking long walks with her Scottish Terrier, Winnie.
---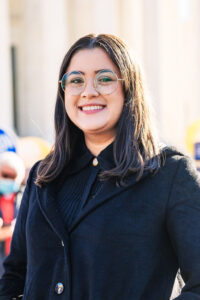 Manuela Tironi she/her
International Programs Associate
@ManuTironi
Manuela is CFC's International Program Associate, in charge of fostering relationships with policymakers, partners, advocates, activists, and health providers organizations in Africa, Europe, and Latin America to influence international policies and practices in the field of reproductive rights and religious liberty.
Before coming to CFC, Manuela worked as a consultant for the nongovernmental organization Bishop Accountability, which serves as a digital archive of the Catholic clergy abuse crisis. She also worked for several years in one of the top law firms in her country dedicated to complex criminal cases, with a special emphasis on clerical abuse cases involving the Catholic church and other religious congregations. She also worked on drafting bills, developing public policy strategies, and a variety of other matters.
Manuela loves her dogs, cold weather, and hot tea.
---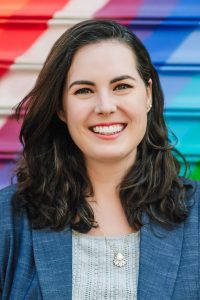 Taylor Tuckerman she/her
Director of Operations
Taylor Tuckerman directs operations at Catholics for Choice, including organizational management, financial oversight and daily administrative operations. Taylor brings a talent for organizing and systems management that has been carefully honed during her long tenure at Catholics for Choice. Taylor holds a B.A. in Government with a minor in Leadership from Christopher Newport University and a M.P.S. in Political Management from The George Washington University.
---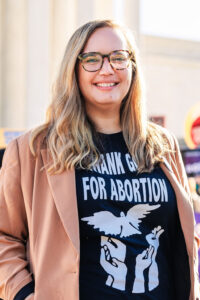 Ashley Wilson she/her
Director of Communications & Strategy
@APdubs
Ashley Wilson is the Director of Communications and Strategy at Catholics for Choice. She has more than a decade of experience organizing people around issues of faith and politics.
Prior to joining CFC, Ashley worked as the Grasstops Advocacy Manager at the Friends Committee on National Legislation (FCNL), the Quaker lobby for peace and justice. At FCNL, Ashley worked on the Strategic Advocacy Team to build the advocacy capacity of supporters with personal connections to members of Congress.
From 2012-2019, Ashley worked at NETWORK Lobby for Catholic Social Justice in a series of roles culminating as NETWORK's Communications Manager. She was responsible for coordinating digital and traditional media strategy for advocacy campaigns on taxes, poverty, healthcare, the federal budget, and more. Ashley also served as an immigration lobbyist during the 2012-2014 push for comprehensive immigration reform. She has traveled to 28 states with NETWORK's Nuns on the Bus.
Ashley graduated from Saint Joseph's University with a degree in political science and concentration in sociology and faith justice studies. She served on the Ignatian Solidarity Network's National Advisory Council from 2015-2017. Outside of work, Ashley enjoys facilitating her local Buy Nothing group, reading books with her ears and/or eyeballs, and brewing her own kombucha.