An Open Letter from New Mexico Faith Leaders: Santa Fe New Mexican
This open letter appeared as a full page ad in the Santa Fe New Mexican on February 15, 2023. To see the full ad and signatories, please click here.
An Open Letter from NM Faith Leaders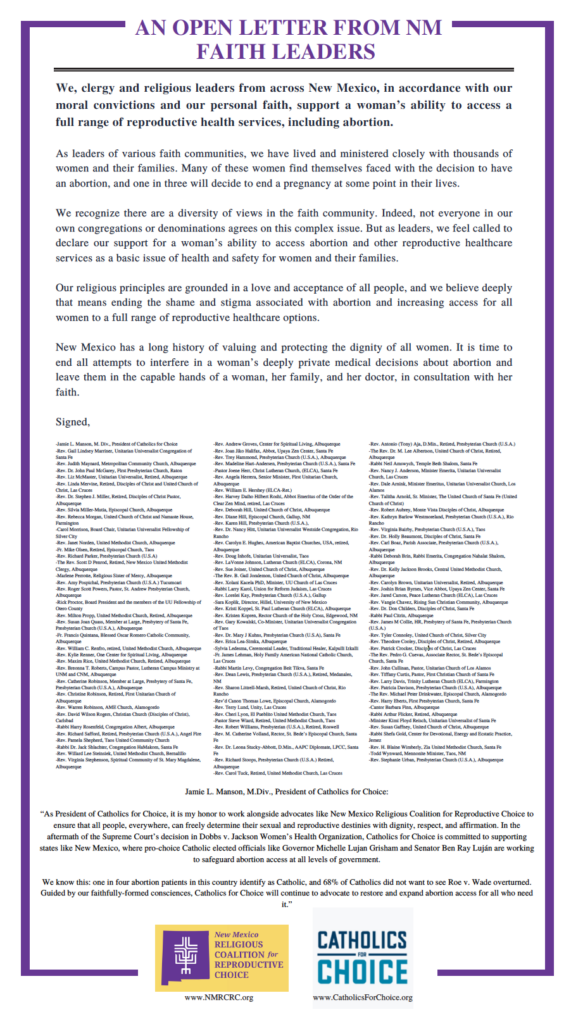 We, clergy and religious leaders from across New Mexico, in accordance with our moral convictions and our personal faith, support a woman's ability to access a full range of reproductive health services, including abortion.
As leaders of various faith communities, we have lived and ministered closely with thousands of women and their families. Many of these women find themselves faced with the decision to have an abortion, and one in three will decide to end a pregnancy at some point in their lives.
We recognize there are a diversity of views in the faith community. Indeed, not everyone in our own congregations or denominations agrees on this complex issue. But as leaders, we feel called to declare our support for a woman's ability to access abortion and other reproductive healthcare services as a basic issue of health and safety for women and their families.
Our religious principles are grounded in a love and acceptance of all people, and we believe deeply that means ending the shame and stigma associated with abortion and increasing access for all women to a full range of reproductive healthcare options.
New Mexico has a long history of valuing and protecting the dignity of all women. It is time to end all attempts to interfere in a woman's deeply private medical decisions about abortion and leave them in the capable hands of a woman, her family, and her doctor, in consultation with her faith.
Jamie L. Manson, M.Div., President of Catholics for Choice:
"As President of Catholics for Choice, it is my honor to work alongside advocates like New Mexico Religious Coalition for Reproductive Choice to ensure that all people, everywhere, can freely determine their sexual and reproductive destinies with dignity, respect, and affirmation. In the aftermath of the Supreme Court's decision in Dobbs v. Jackson Women's Health Organization, Catholics for Choice is committed to supporting states like New Mexico, where pro-choice Catholic elected officials like Governor Michelle Lujan Grisham and Senator Ben Ray Luján are working to safeguard abortion access at all levels of government.
We know this: one in four abortion patients in this country identify as Catholic, and 68% of Catholics did not want to see Roe v. Wade overturned. Guided by our faithfully-formed consciences, Catholics for Choice will continue to advocate to restore and expand abortion access for all who need it."