Faith and Freedom Groups Call for Inclusivity in GOP Platform
New Polling Data Released on Republicans and Choice
Tampa, FL—A unique gathering of advocacy groups came together in Tampa to urge the Republican Party Committee on Resolutions (the platform committee) to consider all faith viewpoints when it comes the country's most pressing social issues—including access to reproductive healthcare and the freedom to marry.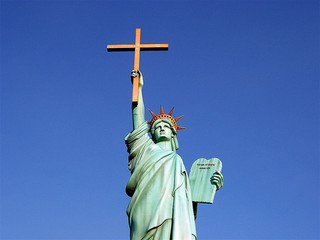 In response to increasingly heated rhetoric about religious freedom, diverse advocacy groups held a panel discussion encouraging the Republican Party to act inclusively on issues of marriage rights and access to reproductive health and not restrict them to any one, narrow faith-based viewpoint. Leadership of Republicans for Choice, Catholics for Choice, the Log Cabin Republicans and the National Council of Jewish Women joined the panel Republicans in Good Faith: Making Room for All Voices in the GOP during Republican Party platform committee meetings on its issues planks.
New data from Republicans for Choice was released at the meeting revealing that views on access to reproductive healthcare including contraception and abortion are not nearly universal across those who align themselves with the Republican Party. In a broad poll on political issues, when asked "Regardless of your personal view on abortion, who do you think should make the decision on whether or not to have an abortion, a woman or her government?" nearly 80 percent of those who identified as Republicans agreed strongly that the decision should be made by a woman. Seventy percent of those who identified as pro-life said that they agree strongly the decision should be made by a woman and not the government.
In today's policy briefing panelists encouraged the Grand Old Party to ensure that public policy protects the religious liberty of individuals of all faiths and no faith, avoiding policies that impose one religious viewpoint on all.
Panelists also addressed the recent debates over religious liberty, healthcare, marriage and other issues which affect people of faith this election season. Working in coalition and individually, each of the participating groups strives to influence policies important to their constituencies, informed by their own political perspectives, faith traditions and community priorities. Panelists discussed how these perspectives do represent the views of Republican voters and ways to incorporate these views to produce the strongest, most inclusive party platform.
"Republicans in good faith don't use faith to discriminate. They recognize the hypocrisy of advocating government get out of the boardroom but not the bedroom. They understand as well that they need to welcome and embrace voters of all religious persuasions, not just the few who have dominated the discussions in the recent past,"  said Ann Stone, national chairman of Republicans for Choice.
Jon O'Brien, president of Catholics for Choice, said, "The leadership of the Republican Party has a long-established tradition of being respectful of people's choices, as seen by the support from Presidents Richard Nixon and Gerald Ford for family planning, domestically and internationally. Indeed, President George HW Bush was a champion of those programs during his time in Congress. Polls done across the political spectrum show the majority of Republicans, like the majority of Americans, do not agree that abortion should be illegal. It's important that the current leadership of the party is challenged to better reflect the views of GOP voters—which are overwhelmingly prochoice. Too many in the current leadership have been convinced by the United States Conference of Catholic Bishops that recent advances in the provision of family planning are an attack on religious freedom. This is completely bogus. In bending the knee to the Catholic hierarchy, these leaders have taken on values that are held by a tiny minority of Catholics and are anathema to the Republican ideals of freedom and fairness."
"Log Cabin Republicans fight for a stronger, more inclusive GOP by standing for the principle that freedom means freedom for everyone," said Log Cabin Republicans programs director Casey Pick. "With a clear, and in some cases, growing, divide among faithful Republicans on issues like marriage equality, a true commitment to the values of freedom, religious liberty and individual conscience should guide our party to embrace a broader range of opinion on these deeply personal subjects. The GOP's ideological diversity is a strength to be embraced. As Governor Haley Barbour said, 'Purity is the enemy of victory.""
"Any discussion about access to abortion needs to begin with protecting women's health," said Nancy K. Kaufman,CEO of the National Council of Jewish Women. "Instead, we have here a presumption that one religious view of conception and abortion can and should be imposed on everyone. As challenges to women's access to abortion continue, we must remember what is truly at stake, lest we risk losing this war of attrition on women's health and rights."
###
Since 1990 Republicans for Choice (RFC) has been on the frontlines fighting for women's rights in the GOP. Its members hail from both ends of the political spectrum making it unique in the pro-choice movement. RFC counts among its members over 500 elected and appointed past and present GOP officials from all 50 states as well as a national membership which has numbered over 150,000.
For nearly 40 years, Catholics for Choice (CFC) has been the unparalleled leader in addressing sexual and reproductive rights from a standpoint of culture, faith and morality. CFC shapes and advances sexual and reproductive ethics that are based on justice, reflect a commitment to women's well-being, and respect and affirm the capacity of women and men to make moral decisions about their lives.
The National Council of Jewish Women is a volunteer organization that has been at the forefront of social change for over a century — championing the needs of women, children, and families — while courageously taking a progressive stance on such issues as child welfare, women's rights, and reproductive freedom.
Log Cabin Republicans is the nation's only organization of Republicans who support fairness, freedom, and equality for gay and lesbian Americans. Log Cabin has state and local chapters nationwide, full-time staff in Washington, DC, a federal political action committee, and state political action committees.