Good Catholics Use Condoms: On St. Valentine's Day, Condoms4Life Says a Culture of Life Means Caring for One Another
NEW YORK/SAN FRANCISCO/WASHINGTON DC—On St. Valentine's Day, the Condoms4Life campaign will launch the newest phase of its campaign to encourage responsible sexuality and to raise awareness about the Vatican's ban on condoms.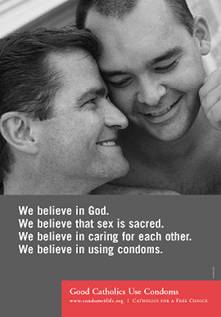 On 14 February 2006, giant ads and posters proclaiming "We believe in God. We believe sex is sacred.  We believe in protecting each other. We believe in using condoms." will appear in bus shelters, subways, hospitals, clinics and service agencies throughout New York, San Francisco and Washington DC.
Samples of the ads are available at www.condoms4life.org.  An original podcast about the issues of the campaign is available for download at www.catholicsforchoice.org/podcasts.
"We launched Condoms4Life to educate young Catholics, as well as gay and straight couples, about what we think our faith demands of us: Responsibility," said Frances Kissling, president of Catholics for a Free Choice. "We see St. Valentine's Day, a day representing love and passion for many couples, as the perfect time to remind people that the culture of life means affirming responsible and just sexual behavior—especially for those who are at risk of contracting AIDS.  We call on the bishops to join us in this campaign to promote a culture of life and protect the lives and health of the countless men, women and children who are at risk of HIV/AIDS."
"Good Catholics are deeply concerned about the problem of HIV/AIDS," continued Kissling.  "There are too many leaders in our church who are doing more harm—even abetting the spread of HIV—because of their refusal to incorporate condoms into their work with AIDS patients.  The bishops talk about promoting a culture of life, and then some go out and actually lie about condoms' effectiveness."
Condoms4Life selected New York, San Francisco and Washington DC because of the enormous impact HIV/AIDS has had in those cities; they are respectively the 1st, 3rd and 5th US metropolitan areas hardest hit since 1981.  In addition to the posters, caregivers, educators and people of faith will receive in depth state profiles that reveal:
The state of HIV/AIDS in the state;
Information about funding streams to combat HIV/AIDS;
The extent to which Catholic institutions provide HIV education, treatment and prevention; and
Key actions and statements of the Catholic hierarchy related to condoms and prevention.
"The Roman Catholic church claims to be the primary health care provider for 25% of the 40 million-plus people with AIDS alive today. And I am sure it has buried many of the 25 million people who have already died," said Kissling. "But it still adamantly refuses to accept condoms as a way of preventing the spread of the disease.  It must do better."
In its research, the Condoms4Life campaign found:
In California, none of the 40 Catholic hospitals and only one of the Catholic universities our researchers called said they provide condoms.
In New York, only 7.1% of nearly $350 million in funding went to Early Intervention Services, including "HIV testing, risk reduction counseling…transmission prevention" in FY 2004.
In Washington, DC, the Archdiocese of Washington opposed a school sex education program that taught students how to use condoms as "clearly not reflective of our values" in 2005. Previously in 2002, the archdiocese released a fact sheet about condoms containing several assertions about condoms that are simply not true, including that condoms are not a means of preventing HIV/AIDS.
"We know, with time, even our Catholic bishops will join us in promoting HIV and AIDS prevention by supporting abstinence, faithfulness and condom use," said Kissling.  "We just hope it is before too many more good and loving people and too many more children die."
For more information about the campaign, or to view the ads and fact sheets, please visit www.condoms4life.org.
To listen to the Condoms4Life Valentine's Day podcast, please visit www.catholicsforchoice.org/news/podcasts.
–end–