Conscience Magazine
Follow the Money: The Real Reason Catholic Hospitals Fight for Exemptions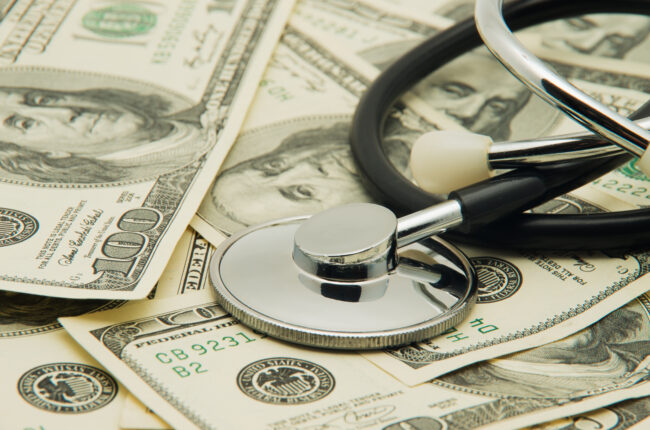 IN 2016, EVAN MINTON SCHEDULED A HYSTERECTOMY at Mercy San Juan Medical Center in California with a doctor who regularly performed hysterectomies at the hospital. After informing the hospital that he was a transgender man and that the procedure was part of his transition, however, his doctor was instructed not to perform the procedure. The American Civil Liberties Union filed a suit on Minton's behalf against Mercy San Juan's parent company Dignity Health (now part of the giant Catholic health system CommonSpirit) in 2017, a case currently before the United States Supreme Court. 
In 2015 Jionni Conforti, a transgender man, sought treatment for his gender dysphoria at St. Joseph's Regional Medical Center in Paterson, New Jersey. His doctor determined that to continue his transition and treatment, a hysterectomy was medically necessary. While trying to schedule the procedure, however, Conforti was told the hospital would not permit his doctor to perform it, citing its policies as a Catholic hospital. Lambda Legal filed a lawsuit on Conforti's behalf in 2017. The center's parent company, St. Joseph's Healthcare System, has been fighting the lawsuit ever since. 
In 2015, following the delivery of her third child, Rebecca Chamarro decided she did not want more children. After she informed her doctor of that decision, he advised that she get a tubal ligation (also known as tube tying) during her cesarean section. Doing the procedure simultaneously with her C-section was the safest way as it wouldn't require a second operation with additional anesthesia or recovery time. Chamarro's hospital, Mercy Medical Center in Redding, California, however, rejected her doctor's request to perform the ligation. As a Catholic hospital, they claimed that sterilization was against their policies. The ACLU filed suit against Mercy Medical's owner Dignity Health on behalf of Chamarro. Dignity is still fighting the lawsuit, insisting for six years that its religious beliefs overrule a patient's right to care.
These are just three of numerous lawsuits Catholic hospitals and health systems have spent many years and huge amounts of resources litigating. Why have they been so determined to fight these suits? Why do they refuse to change their policies and cling to their strict religious principles? According to the financial data on Catholic healthcare, one reason seems particularly likely: These lawsuits represent an existential danger to Catholic hospitals because they threaten to cut off the enormous government funding that serves as a prime source of their substantial profits.
Like most hospitals, Catholic medical facilities and health systems — which are steadily growing in size and scope throughout the U.S. — depend heavily on the U.S. government for financial survival. Unlike other medical facilities and health systems, however, Catholic hospitals lobby federal and state governments to carve out huge exceptions in federal prohibitions against discrimination. By using their status as religious nonprofits to refuse care to the LGBTQIA+ community and those in need of abortions or contraception, Catholic hospitals have succeeded in having their cake and eating it too. These institutions rely on government funding while defying federal and state bans on discrimination. 
Any lawsuits challenging the tax status or eligibility of Catholic hospitals to participate in government programs could have huge consequences for those hospitals and their parent health systems.
A License to Discriminate 
Catholic hospitals' framework for care provision is based on a single document that was developed and is regularly updated by the U.S. Conference of Catholic Bishop's Committee on Doctrine. The document, the "Ethical and Religious Directives for Catholic Health Care Services" (ERDs), assures Catholic healthcare providers the right of refusal to "provide or permit" any medical procedures "judged morally wrong by the teaching authority of the Church." 
The directives state that "Catholic health institutions may not promote or condone contraceptive practices," that "direct sterilization" (such as a hysterectomy) is prohibited, and that abortion "is never permitted," including during "the interval between conception and implantation of the embryo." 
Across the country, these are the rules that Catholic hospitals follow, leaving those in need of reproductive or gender-affirming healthcare with few options. 
The ERDs also seem to directly contravene federal nondiscrimination laws, including Section 1557 of the Affordable Care Act. Catholic hospitals maintain that, despite the danger these directives put patients in, their rules allowing refusal of healthcare are protected as part of their sincerely held religious beliefs. Inevitably, such restrictions bump up against state regulations prohibiting discrimination. 
Without these religious exemptions, Catholic hospitals would be forced either to provide necessary and often lifesaving healthcare to everyone in need or to relinquish billions in annual federal funding and revenue.
"Essentially, Catholic hospitals exploited access to federal funding to receive even more federal funding."
What's at Stake for Catholic Hospitals? 
According to a 2020 report by Community Catalyst, the number of Catholic hospitals in the U.S. has grown significantly. From 2001 to 2020, 128 new Catholic hospitals were created — a 29% increase. In contrast, during this same period the number of all other hospitals fell by nearly 14%. Practically, this means that more and more communities with only one nearby hospital must rely on a Catholic facility for all urgent healthcare needs. FiveThirtyEight's description of this shift makes explicit the repercussions of such a change: "Increasingly, where a patient lives can determine whether Catholic doctrine, and how the local bishop interprets that doctrine, will decide what kind of care she can get." 
Like most hospitals in the U.S., Catholic hospitals make much of their money through government reimbursements and insurance plans like Medicare. Since 2011, revenues from Medicare and Medicaid have risen by 78% for Catholic hospitals and health systems — from $27 billion in 2011 to $48 billion in 2020. This spike in revenue represents a much bigger jump than all hospitals, which in total saw revenue growth of just 25% from Medicare and Medicaid. 
Community Catalyst's report notes that four of the ten largest health systems in the country are Catholic. Looking at those four systems' recent financial disclosures, we get a sense of how much Catholic health systems depend on federal programs: 
Catholic hospitals also used Medicare patients to receive billions in COVID-19 relief funding, as initial funding was distributed based on number of Medicare patients. Community Catalyst reports that "the Providence Health System received at least $509 million in bailout funds, while sitting on $12 billion in cash it uses for investments, according to The New York Times. Ascension Health received at least $211 million in bailout funds, even though it had $15.5 billion in cash on hand." Essentially, Catholic hospitals exploited access to federal funding to receive even more federal funding. 
Money from government programs doesn't just mean increased revenues, however. Hospitals depend on that same federal funding to exist. To participate in government programs like Medicare and Medicaid, hospitals must have a Medicare provider agreement. In a 2017 article, David Archer, former CEO of St. Francis Hospital and current associate professor at Christian Brothers University, points out that "hospitals, including 'Catholic' hospitals, cannot survive without a Medicare provider agreement." Archer continues, "Without Medicare certification, the hospital would not be able to bill Medicare or any other federal healthcare program (Medicaid, Tri-Care, Medicare Advantage). The resultant loss of revenue and margin would be catastrophic." 
Catholic hospitals not only use religious nonprofit status to skirt discrimination laws, they also reap financial advantage through that designation. Their status as not-for-profit entities renders them exempt from state and federal income tax as well as local and state property taxes, a benefit that has saved them billions of dollars. A 2015 study published in Health Affairs estimated that nonprofit hospitals reduced spending by $25 billion through their tax-exempt status. And because they relied on 2011 data, any follow-up analysis presumably would produce even higher numbers. 
Catholic hospitals continue to take advantage of this status despite actually spending less than for-profit hospitals on "charity care." As Community Catalyst found, in aggregate, they "do not serve a higher percentage of Medicaid patients than do other types of hospitals." Trinity Health has even fought to close the only hospital in an underserved Chicago neighborhood, despite Illinois officials' protests that closure would force "nearly 60,000 South Side residents" to travel more than 7 miles to access healthcare. 
With increased scrutiny over civil rights violations and no sign of lawsuits letting up, Catholic hospitals and their local bishops will have to decide: refuse to provide necessary care to patients deemed undeserving or lose billions of dollars in federal funding? Given their history, we must expect Catholic hospitals and health systems will do everything in their power to preserve their license to discriminate.