Conscience Magazine
IN MEMORIAM: Remembering Fr. Hans Küng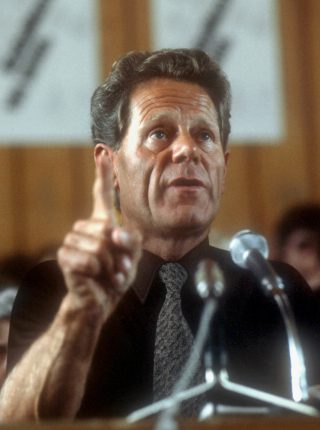 CATHOLICS FOR CHOICE honors the life and mourns the loss of internationally renowned Swiss scholar Fr. Hans Küng, who died on April 6 at the age of 93. An ordained priest, progressive theologian and bestselling author, Küng was one of the most influential, prolific Catholic voices of the 20th century. Born in 1928 in the lakeside town of Sursee to a shoe seller and a farmer's daughter, by age 11 Küng wished to become a priest. Studying theology and philosophy at the Pontifical Gregorian University in Rome, he distinguished himself as a promising, reform-minded scholar. Following his 1954 ordination, Küng earned a doctorate in theology from the Catholic Institute of the Sorbonne in Paris, his dissertation arguing that 16th century Roman Catholic and 20th century Swiss Reformed doctrines on justification affirmed the same truth with different words, and were thus not in disagreement.
At the invitation of leading Protestant theologian Karl Barth, he delivered a landmark lecture on the need for reform in the Catholic Church in 1959, the same year Pope John XXIII called for a Second Vatican Council. A bestselling book by Küng the following year effectively set the agenda for all upcoming discussions on the subject of reform. At the invitation of his bishop, Küng attended Vatican II from 1962 to 1965 as his personal peritus, or expert theologian— the youngest present, at age 34. (Another notable peritus: Joseph Ratzinger, whom Küng recommended to theology colleagues at Tübingen University for a department chair and who, decades later, became Pope Benedict XVI.) Despite Küng's lack of seniority, his impact on Vatican II proved enormous. According to renowned Vatican expert Peter Hebblethwaite, all of his proposals were accepted in its final documents. "Never again would a theologian have such influence," wrote Hebblethwaite.
Ambitiously viewing the Second Vatican Council as a launchpad for continuing reforms, going forward Küng pressed to end priestly celibacy, ordain women and married people and shift election of popes from the College of Cardinals to lay Catholics and priests. He strove for a rethinking of church teachings on abortion and homosexuality, and encouraged lifting the ban on birth control, the use of which he called a matter of individual conscience. Küng's well-reasoned critique of the doctrine of papal infallibility (in another bestselling book, he found the teaching lacked a scriptural basis and compiled a laundry list of papal mistakes), however, drew the ire of the Vatican's infamous Congregation for the Doctrine of the Faith. Ordered to recant his "mistaken views," Küng refused, sparking an eight-year battle he likened to being targeted by the Inquisition. Under authorization of Pope John Paul II, in 1979 Rome stripped Küng of teaching authority, implicitly forcing him to move from Tübingen University's Catholic theology school to its secular Institute for Ecumenical Research.
Despite the rebuke, Küng taught as a tenured professor until retiring in 1996. Continuing to write, lecture, and preach around the world, not until 2013 did his output slow due to illness. Later years saw Küng's advocacy broaden to include global interreligious dialogue, racism, the environment and death with dignity. To the end, Küng remained a priest in good standing and a faithful Catholic—both a source of inspiration and a lifelong example to generations of Catholics across the planet who dissent in good conscience from church teachings, not in spite of their faith, but because of it. May our continued work for a broader, inclusive, more compassionate, courageous, caring, Christ-like Catholic Church follow Fr. Küng's example and honor his legacy.