Conscience Magazine
Op-Ed: When Freedom of Religion Compromises Healthcare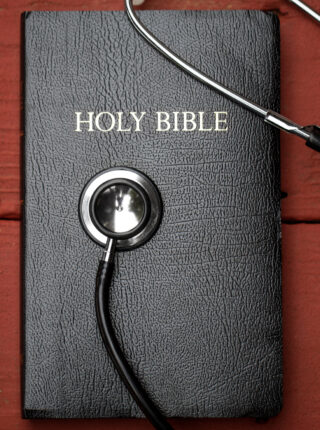 In her May 6, 2021, article "Lawful Discrimination," Sonja Spoo details religious refusals put forth by the Catholic hierarchy (and admired by evangelical conservatives) to inflict medical harm upon vulnerable people seeking healthcare in the U.S. Spoo writes, "This is a battle between what they see as a project of social transformation they oppose and the advancement of democracy, constitution and public demand. They hide their bigotry behind the guise of religious practice, denying millions of women, LGBTQ people and others autonomy, dignity and equality."  
As a believer and a reproductive justice advocate, my moral conviction on this issue aligns with Spoo's as a matter of human rights. As a Black woman who has endured racism, fatphobia, gender discrimination, implicit bias by medical providers, and anti-abortion shame and violence, my lived experience leads me to wholeheartedly agree with her that the current state of healthcare is abusive. 
This morning, I happened to be driving past one of our Planned Parenthood locations and noticed a white man, rosary in hand, leaning forward with his head pressed on the metal bars of the facility's parking lot. I imagine he was praying for the unborn, praying that a woman or girl would choose to bring their child to term, praying that the doors of the facility would close. I almost stopped, but I questioned whether interrupting his prayer would make a difference. 
This Planned Parenthood facility is on the outskirts of the medical district in one of the more affluent neighborhoods in Memphis. It is often, though erroneously, said that abortion clinics purposely set up shop in low-income or Black neighborhoods to lure unsuspecting women to their facilities. But in Memphis, predatory faith-led medical facilities actually occupy space in some of the most vulnerable Black, Brown, and low-income neighborhoods. Many of these facilities are religiously run, operating under a strict policy to neither provide nor refer patients to any services the facility deems religiously offensive. 
However, Memphis has a grave transportation disparity, especially for low-income people and people of color without private transportation. These faith-led facilities set up intentionally in low-income neighborhoods prey upon people who physically cannot get to other options. It is medically unethical that these clinics deny services to the most vulnerable. Such policies are antithetical to the nature of abundance that the Divine desires for all people. 
I know this unethical behavior firsthand. My son was delivered by a Catholic doctor. Soon after his birth, during a follow-up visit, this same physician attempted to deny my request for a circumcision. The doctor stood firm on his religious principle against circumcision, and I to mine that my son should be circumcised. I won, but because the doctor botched the circumcision, my son suffered a tragic loss. 
This scenario may pale in comparison to those who are denied gender reassignment care, abortion care, in vitro fertilization services, or sterilization. At the baseline of my experience, however, is religious and cultural autonomy. What the doctor could not argue with was my interpretation of biblical text, as well as my cultural needs. I consider the doctor's behavior to be medical malpractice — he imposed his personal, religious beliefs into a professional care setting. The white man standing and praying in the clinic parking lot is also guilty of malpractice: religious malpractice. 
Not only is lawful discrimination by the Catholic hierarchy and self-proclaimed evangelicals within medical institutions harmful, but their faith and religious arguments are misaligned with clear sentiments of the Divine across religions. As a believer, my Bible teaches me that Jesus came so that every human being "may have life, and have it abundantly" (Jn 10:10). Abundance is not an exclusive luxury for elites or the pompously religious but a sacred birthright for all humankind. Yet, enforcing religious refusals against the most marginalized among us achieves quite the opposite. 
"In Memphis, predatory faith-led medical facilities actually occupy space in some of the most vulnerable Black, Brown, and low-income neighborhoods ... operating under a strict policy to neither provide nor refer patients to any services the facility deems religiously offensive."
If conservative Catholics and Protestants want the power to deny healthcare in the name of religion, they must also be held responsible for supporting policies that create unsafe environments for the very people they claim to protect. Young people ought to have proper interventive and preventive strategies to manage sexual and reproductive health. Survivors and victims of sexual violence ought to have access to emergency contraception to avoid pregnancy. They also need access to abortion when emergency contraception isn't an appropriate option for them. LGBTQIA+ people do not deserve implicit bias in the medical setting: It is the medical provider's duty to serve patients or refer them to a provider who can. Likewise, people who are disabled do not need discrimination by their providers, but rather the support and compassion to pursue the lives they deserve. 
The conservative, evangelical right emphasizes controlling people over cultivating an environment of abundance for our souls, as well as our bodies, to thrive. Our communities are in desperate need of compassionate, holistic investment, not another faith-run medical facility that cherry-picks the type of care they want to give based on the character, race, or sexual orientation of the individual seeking care. Evangelism has focused far more on political power-building than kingdom-building. That statement should mean something dire to every believer. 
I doubt that the man praying at the clinic is invested in people's unhindered access to safety, sexual health education, equal pay, or social well-being — societal goods that, when obstructed, often result in the need for abortion access. The proof is in the policy: Legislators espousing the same beliefs as the man outside that clinic unapologetically and intentionally abandon whole communities. Medical providers and institutions prioritizing the "Ethical and Religious Directives for Catholic Health Care Services" over the spiritual directives of the Divine are ill-equipped to serve in their professional capacities and should be shut down indefinitely. 
As Spoo writes, "Liberals and progressives must not shy away from religious liberty clauses and instead make [faith-based] counterarguments that center the spiritual value of equity and common good." The Divine has made every human being equitably, and we all have spiritual power. The common good, also authored by the Divine, is an abundance that should never be hindered by the political or religious actions of another. 
As a follower of Jesus' ministry, my Bible teaches me that Jesus challenged unjust systems, especially around healing the sick and helping the poor and marginalized. Believers must not hinder another individual's human flourishing. Neither that individual's identity nor their understanding of a flourishing health outcome should matter. Compromising healthcare in the name of religion is offensive, dangerous, and spiritually unethical. It cannot be the will of the Divine. The Biden-Harris administration must affirm the protections stated in the Religious Freedom Restoration Act, or Americans — believers or not — will remain subjected to the perverted, religious fascism of people centered not in divine abundance, but in political power.