The Latest
Uplifting Pro-Choice Catholics in Florida
A few weeks ago I was in Tallahassee to advocate for reproductive freedom grounded in our Catholic social justice values. CFC joined our interfaith partners, faith leaders, and pro-choice Catholics from across the states to meet with more than 30 legislators on both sides of the aisle over two days. Together we distributed many of our publications, including the Advocate's Bible, You Are Not Alone, and Conscience magazine.
On the heels of Governor DeSantis signing a six-week abortion ban into law, it was profoundly empowering to be in community with pro-choice people of faith. I was inspired by the faithful advocacy of many Floridians who remain committed to a future where people have access to the care they deserve. I want to share their stories with you!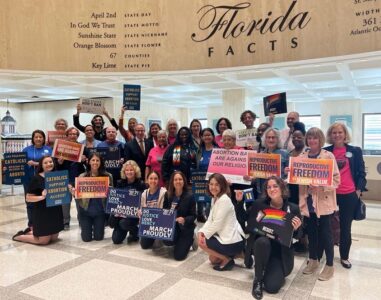 I was honored to advocate alongside Verónica and Lucy, two incredible community leaders, at the capitol during our lobby visits. I hope their prophetic words inspire you as much as they did with me.
"I advocate as a person of faith because I understand that it is important to defend women's lives and give them the opportunity to decide. I am not sure if my elected officials will listen, but I put my hope in God that in the future they can vote their consciences. I want them to listen to our community because we are the ones who elected them." — Lucy
"I have always been passionate about lobbying for issues that are important to me — it is an opportunity to speak for myself and for others who can't be here knocking on our elected officials' doors. As a Catholic woman, I had the opportunity to make the choice that was best for me and my health at the time. Now that Florida has passed a 6-week abortion ban, I am particularly worried about people who will need access to abortion for medical reasons like I did, and now they will find themselves in difficult situations without many options." — Verónica
Lastly, we know that many of our CFC advocates were not able to join us in Tallahassee but are tirelessly working for a Florida where all people can thrive.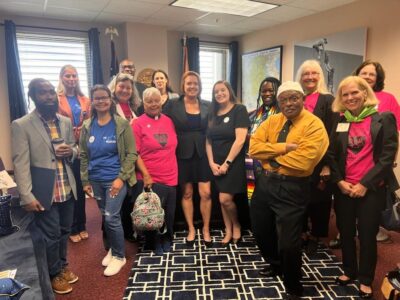 "How can the anti-abortion movement consider itself a pro-life movement if they don't care about the woman's life or about the child's life once it's a baby and no longer a fetus? The anti-abortion movement is a pro-pregnancy movement, a pro-birth movement, because it doesn't concern itself with the life nor with welfare of children in this country." — Sofia Leon
Though Catholic himself, Governor DeSantis does not speak for Catholics in Florida. Catholics for Choice are the majority. We are committed to continuing this important work in Florida and in other key states.
Read some of our media coverage from the trip!
Florida's six-week abortion ban violates my Catholic values — CFC Board Member Gloria Romero Roses wrote this Op-Ed for the Sun Sentinel.
Faith Leaders fighting for reproductive freedoms — "Shannon Russell with Catholics for Choice believes the ban will further disenfranchise communities that are already struggling. "'People who are living on the margins and already face discrimination when trying to access health care and we as Catholics are called to prioritize their needs above everybody elses [sic],' said Russell."
Opposers of abortion ban gather in Tallahassee to protest 'one size fits all' legislation — "'Instead of passing a one size fits all legislative solution that enshrines a minority view and religious view into law and forcing it upon our entire state, we must trust women,' Gloria Romero Roses, board treasurer of Catholics for Choice said. 'We must trust pregnant people to make the best decision for themselves.'"