Statement by Catholics for Choice on World AIDS Day
On World AIDS Day, we remember those who have died and the communities around the world that have been devastated by this tragic disease. We also express solidarity with the millions who live with HIV and our support for the services and care they need. Children are orphaned, economies are weakened and poverty increases as people die from AIDS.
So we welcome Pope Francis' most recent remarks which show compassion and understanding of those most affected by AIDS. His call for "everyone to adopt responsible behavior" applies equally to governments, religious leaders, medical personnel and individuals as they seek to stem this disease and support those living with HIV.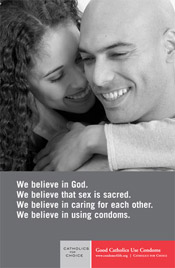 The Pope's latest remarks are a marked improvement over what he said one year ago in an off-the-cuff remark when he described condoms as a "Band-Aid" solution to what he sees as the continent's larger and more urgent humanitarian challenges. Just as condoms are not and have never been a panacea to the AIDS crisis, neither do we see it as responsible to create an Olympics of Need where condoms are pitted against clean water. We welcome efforts to impress upon his brother bishops that AIDS is not an isolated disease, but the cause of suffering, poverty and instability for millions. The tragedy for those of us in the church today is that despite Pope Benedict XVI's admission to limited condom use, the current Pope's brother bishops continue to lobby against their availability as part of development aid.
Until the Catholic hierarchy publicly and emphatically changes its stance on the use of condoms, the behavior responsible for increasing deaths from AIDS will be their own.
###