What Catholics Are Saying About Planned Parenthood on Valentine's Day
Today, legislators and Planned Parenthood clinics across the United States received an anthology of letters from Catholics in 39 states expressing their appreciation for the services Planned Parenthood provides.
"At Catholics for Choice, we're painfully aware that the leaders of our church do not represent the majority of Catholics," said Jon O'Brien, president of Catholics for Choice. "Catholic bishops and their allies from the antichoice Center for Medical Progress have used misleading videos that accused Planned Parenthood of 'selling' fetal tissue. The rank and file Catholics we speak to every day understand that this is part of an elaborate smokescreen that the antiabortion movement is using to distract from the real issue at stake: access to comprehensive reproductive healthcare, which includes abortion.
"As Catholics who care about the common good, we also believe that fetal tissue donation is moral, ethical and downright necessary, when done according to a patient's wishes and within the legal guidelines."
O'Brien concluded, "That's why we have been organizing to show that Catholics stand with Planned Parenthood. Everyday Catholics, activists and state lawmakers have told us how much they value Planned Parenthood's work in their communities."
Dear Planned Parenthood: Love Letters from Catholics features heartfelt messages thanking Planned Parenthood staff for the care they provide to women and men across the country.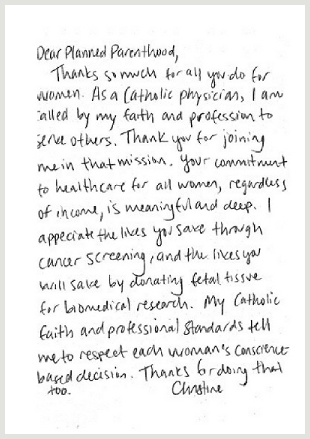 To learn more about Catholic support for Planned Parenthood, visit CatholicsforChoice.org.
-###-